The evil and vain Queen Asphyxia is determined to forever stay the most beautiful woman in all the land, and with the aid of her magic mirror she eliminates all those who dare to be fairer than she is.
The beautiful Snow White lives a peaceful life in the village of Folly-on-the-Wold with her Aunt Gertrude, until one day the magic mirror calls out her name as the fairest in the land. The race is now on to save Snow White from the evil Queen and her not entirely competent henchmen.
Will the Seven Dwarfs be able to protect Snow White from the evil Queen?
Will Snow White be reunited with Prince Sebastian?
Is the magic mirror just Googling the answers to the Queen's question?
Find out in our 2019 panto 'Snow White and the Seven Dwarfs'.
More details are here.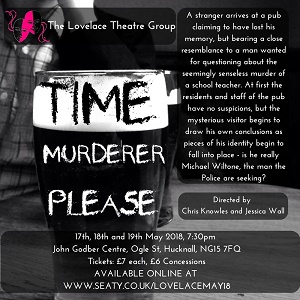 TIME MURDERER PLEASE




by Charles Raymond Dyer



Join us in our fiftieth year as we travel back to the 1960s for Charles Raymond Dyer's comedy thriller set in darkest North London.
A stranger arrives at a North London pub claiming to have lost his memory, but bearing a close resemblance to a man wanted for questioning about the seemingly senseless murder of a school teacher. At first, the residents and staff of the pub have no suspicions, but the mysterious visitor begins to draw his own conclusions as pieces of his identity begin to fall into place - is he really Michael Wiltone, the man the Police are seeking?
This amateur production is presented by arrangement with Josef Weinberger Ltd.

Click here for more details.